Poker Attack iPhone app Review
Description:
Take poker to the next level with the Poker Attack iPhone app.  This is an extremely fun and addicting poker game that will have your fingers hurting when you are done with it because you won't be able to put it down.  Different than other poker games, Poker Attack puts you at a race against the clock to come up with the best hands possible in the shortest amount of time.  You will have 4 different poker hands that you are customizing at the same time.  You will have to fix them all up to your liking before the timer runs out.
One of the great things about this poker app is the online connectivity that is involved.  Because this is a point race against the clock, it can be really fun to see what kinds of scores other poker players are getting and then try to go back and beat it.  You can upload your personal scores and shoot for the top!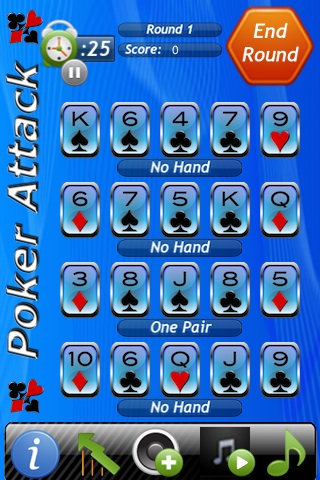 Features:
This version of Poker Attack has absolutely no advertisements so you can play your game in peace
The animations included in this app are very fluid and you will be surprised how stunning they look
The gameplay is fast paced and full of action.  You will need to have your wits about you in order to keep up with the temp of the game
You can get online and check out online rankings both locally and globally.  See who the best players are in the world and what kind of high scores they are getting
If you get a phone call or have to exit out of the app for some reason it will automatically save your game where you left off so you can immediately return back to it and start right where you left off
When you are checking the leaderboards you can also submit your highest scores on there as well
The game comes with a soundtrack and also some pretty nifty sound effects
If you would rather, you can also listen to the iTunes that are on your iPhone rather than listen to the in-game music
This app is inexpensive and also very addicting
Conclusion:
This app will keep you flying through the rounds trying to create the best hand possible.  This poker app is a bit more action packed and fast paced than other poker apps and it helps to set it apart.  For only a dollar it is a fun poker spinoff that you will probably enjoy.
Voted 4 1/2 stars by iPhone app users and currently costs $0.99 to download.