Poker Free iPhone app Review
Description:
Poker is a test of wit, strategy, and out-bluffing players like the Wicked Witch of the West.  Well at least that is the goal in the Poker Free iPhone app.  In this game you will be able to play against some wild characters including Dorothy, Abraham Lincoln, and even the Tooth Fairy.  There is never a dull moment when you are playing the Poker Free iPhone app.
This game takes the classic game of poker and spices it up with some fun AI opponents and a fun table setup.  You will have the ability to look around the table and try to size up your competitors.  You will love their animations and their unique personalities.  As you try to master Texas Hold 'em, you can enjoy a quick history lesson as well.  Each of the players personalities are reflected in their style of play so you will have to figure them each out in order to know if they are bluffing or not.  Go big and throw it all in on the Poker Free app for the iPhone!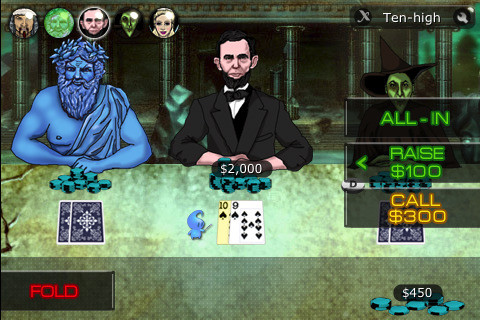 Features:
Base off of the wildly popular game on the Mac
One of the best parts of this app is the opponents that you can play against.  There are over 25 different people from history that you can play against including Abraham Lincoln, Barack Obama, Abominable Snowman, Grim Reaper, Medusa, Julius Caesar, Cleopatra, Dracula, Genghis Khan, Neptune, Robin Hood, and even Sherlock Holmes
There are six different areas where you can play the game including Wonderland, Atlantis, and even Transylvania
As you sit and manage your cards you can also look around the table to see the nonverbal cues your opponents may have
You can count cards and try to see what your odds are during any point of the game
You can slide and drag your finger over the screen in order to place and fix your bet once it is on the table
There is an online high score list where you can see who the global leaders are
You can unlock new opponents with wins and imagine points
You can participate in Play Limit, Pot Limit Texas Hold 'em, and No Limit
It also has full connectivity with Twitter so you can tweet your results
Conclusion:
Hey it's free and it's fun, what more could you ask for?
Voted 3 stars by iPhone app users and is currently free to download.