VIP Poker – App Review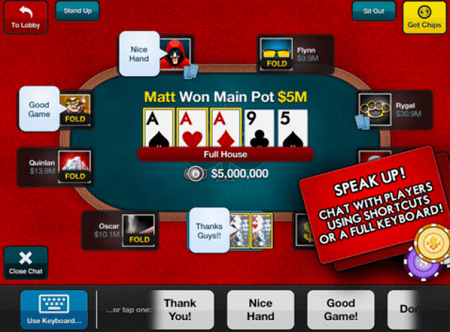 VIP Poker is a Texas Hold Em app that lets you play the most popular version of poker in the world on your phone. Texas Hold Em has become extremely popular with help from the World Series of Poker, and the World Series of Poker has influenced the style of the game. VIP Poker lets you sit down to a table that has up to nine players, and you will play live with everyone. This article explains how VIP Poker gives you a genuine experience without any of the hang-ups of playing against software.
Play Against Real People
Every game in VIP Poker is played against real people on their phones or tablets. You will play every player at Texas Hole Em in a live game at the table, and you will compete through the app until your every hand is complete. You may stay in a game for as long as you like, or you may fold after one hand. VIP Poker helps you have a real poker experience without going into a casino at any time.
You are not required to play the software when you log in to the app, and you may find your friends when you log on. There is a chat feature in the app that allows you to chat with your friends as you play, and you may search for your friends when you want to play. Every table is filled with people who are playing live on their phones, and you need not worry about keeping your poker face.
VIP Poker Lets You Play at Your Pace
VIP Poker lets you play at your own pace with people who are on your level. You may play the game against people who are as skilled as you, and you may test yourself against players who are better than you as you improve. Your improvement as a poker player is dependent on your willingness to change to a new table when the time is right.
You may download VIP Poker on your phone, and you will find a table that is perfect for your skill level and desire to play. You may log on at any time to play Texas Hold Em with your friends, and you may use the chat feature to make new friends as you play. Every player at VIP Poker receives the full Texas Hold Em experience.