Bwin iPhone Poker App – One of The Best Poker Apps!
Bwin hit it out of the park when they designed their new mobile Texas Hold 'Em application for the iPhone.  It is extremely addictive, which can be very bad for your wallet if you aren't the best poker player.  What do we mean by that?  It's simple; bwin Poker is a real-time poker application that lets you play in real cash games whenever you want.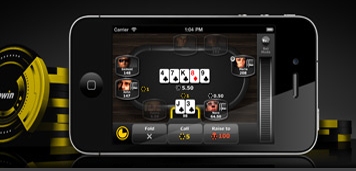 This application allows you all the excitement of an online casino in the palm of your hand, whenever and wherever you want.  By bringing the thrill of a real cash game to your iPhone, you are able to increase your income with the swipe of a finger.    The designers at bwin spent a lot of time putting this app together, and it shows when you play.  They knew exactly what players like and don't like, especially since many of them love the game themselves.
No matter what style of poker is your forte, you will be able to find a table perfect for you.  If you are in the mood to play casually then try one of the $2/$4 tables.  If you are more interested in the ability to go all in, you will love the No Limit tables that are available.  All of these choices can be made in the Game Lobby; your first stop when you open this application.
Thanks to the popularity of such events as the World Series of Poker, Texas Hold 'em has exploded in the poker world to become the most popular casino card game.  This game is very easy to understand and even easier to play. Just like with any other card game, there is strategy involved in how and when you bet or raise, and once you have a basic strategy down, playing in a fixed limit or no limit cash game is a great way to test out your strategy.
Playing poker for cash has been around for over a century, and the internet provides card sharks the opportunity to play with people from all over the world.  Poker is a medium in which people can communicate even when they don't speak the same language.  '
Many players who are playing online for real money for the first time often make the mistake of either playing very tight, that is to say being very picky about what hands they play and how they bet and raise, or very loose.  Loose players tend to take more risks with their hands, and this can often lead to big wins, but more often bigger losses.  Either play style is more than welcome in this online gambling app.
This application is absolutely free to download, although game play will cost you, but you control how much or how little.  There is no monthly service fee, and while there currently is not a tournament play option, it is in the works.   This application gets our highest rating and recommendation, not only for its real stakes play, but also for the great graphics and easy to use features.
You can get a 100% welcome bonus up to $1000, but remember to register before downloading.
GO HERE TO REGISTER AND GET YOUR BONUS
You can also scan your iPhone to download here: