Fresh Deck Poker – App Review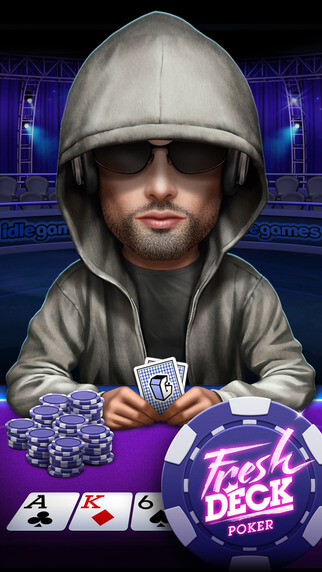 Get ready for the freshest mobile poker game around. It's called Fresh Deck Poker and it is a spin on the enormously popular Texas Hold'em poker style game that thousands of people flock to play on a daily basis. You'll love the sights and sounds that you discover. Put on your poker face and get ready to discover some of the best poker matches to be found anywhere online.
Features and Highlights
– Cross-platform: You can enjoy the very same poker scores across all of your Apple devices thanks to Fresh Deck Poker. They correctly claim to be the only cross-platform poker game around.
– Certified random number generator: Fresh Deck is certified by the same agency that certifies the real money casinos, meaning you're getting a truly unique poker experience when you play with them. It's all about the numbers in poker and Fresh Deck made sure that they brought quality and then backed it up by getting certified. You're not going to get cheated out of wins in this one.
– Royal Hold'em: 20 cards are featured in this deck and you can only play this game on Fresh Deck Poker. Other apps leave this one out but thankfully Fresh Deck knows the poker game expertly enough to know that players need this one included in their line-up of games.
– Avatars: Fresh Deck goes all out with full-color and fully customizable avatars that let you leave your own unique mark on the game. This is a very social mobile app so you need all the customization you can get to keep up with your equally creative friends. Go into your games with style.
– Play against friends: This is hugely important. You're not just going up against the house in this game. You're going to be going toe-to-toe with your best buddies. This ups the stakes enormously and makes the game a fresher and more fun experience than other mobile poker games.
The list here could go on and on. Fresh Desk is one of the finest poker games around and it proves it day in and day out. The creators know poker well and they know what poker players need to be happy and have a good time playing on a mobile platform. Leveling up is added to the fun, too. You can unlock all kinds of amazing game content just by playing frequently. New tables and challenges await.