Perfect Poker Mobile Game App to Play Facebook-Based Live Multiplayer Perfect Poker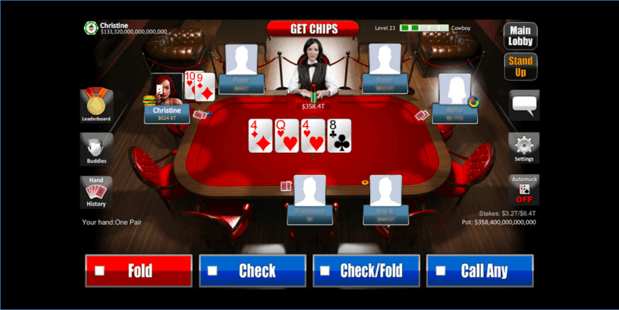 Perfect Poker by Social Play Ltd is a multiplayer app that allows poker enthusiasts to play with real life players engaged in real time live poker, via the Facebook platform. App users can join tables at regular poker rooms, participate in tournaments, create and play in a private room or rub shoulders with high rollers playing in VIP rooms. The rooms are presented in three styles of casino gaming environment, Las Vegas, London or Monte Carlo.
There are more than 150 live tables available and presented in the three different casino themes. Developer Social Play designed the Perfect Poker app as the perfect poker companion to bring along anywhere, even as players putter around the home, when away from the keyboard, or in any location where there is Wi-Fi connection.
The app is free and comes compatible with Android-supported smartphones or tablets running on versions 2.2 and later, and downloadable at the Google Play Store. Installing the app and creating an account, enables Perfect Poker app users to join multi-player live poker tables.
This app though is suitable for players already knowledgeable in playing online poker, as getting into the action entails joining real time, with real-life players who already have actual playing experience in No Limit Texas Hold 'em Poker games. Perfect Poker app users will enjoy perfectly realistic poker playing engagement, but without the pressures experienced when playing in a real-money gaming environment.
Perfect Poker App Features
This app gives users two choices on how they want to create their account. They can play as a guest user, therefore limiting the tables to those played in by fellow Perfect Poker guest players. A more attractive choice is to get into the action as a Facebook player, as doing so will make the Facebook-based live multi-player poker tables available as choices.
If you are playing as a guest, you will still need to create an account and provide a screen name, indicate your gender and choose an avatar as your profile pic. A Facebook-connected Perfect Poker account on the other hand, simply requires logging in to your FB, using the same email address and password that opens your FB account.
The Perfect Poker Lobby gives information similar to those that you would find in an online poker room. It gives you poker room choices based on types of virtual room, whether the regular kind, the tournament venues, an existing private room that you or your friend created,  or one of those VIP rooms where high-roller players converge to play high-stakes poker games in real time. You can view the buy-in fees for each room, the number of active players at the table, as well as the minimum and maximum betting levels, if any. The Lobby also allows you to trim down the list by giving you the option to exclude or hide tables already filled, and/or tables currently empty.
Actually, you can live out your dreams of playing for high stakes, since the app immediately credits your account with one (1) Quadrillion worth of chips to use as bankroll. The amount constitutes as many as 24 digits in all. Still, minimum and maximum betting levels are also in quadrillions, which means you will be paying for buy-ins, and will be winning or losing in quadrillions as well.
If you are a Perfect Poker app user looking to hone your skills by competing with other aspiring poker pros, you can check out your name in the FB-based leaderboard to see where you rank in the Perfect Poker line up of best players. View rankings based on World Top, Country Top, or Friends Top.