Poker Buddy iPhone app Review
Description:
The Poker Buddy iPhone app is an easy to use, fun poker tournament game.  One of the nice things about it is it is an offline poker game so you never have to worry about lag or times when the server is down.  This is one of those poker apps that helps you to track your progress and improvement in a poker tournament and also monitor your blind levels.  You can also keep track of you re-buys, add-ons, and even your knockouts.
This game is an easy way to manage a poker game and keep track of everyone's statistics.  You can even go as far as emailing each player's results back to them at the end of the game so that they know how they each did.  This app also features an in game timer and also the ability to network multiple iPod Touches and iPhones together in order to have a great multiplayer system going on.
The fact of the matter is, you won't find a better poker companion at this kind of a price so get your boots on, pull out your hand, and download the Poker Buddy iPhone app today!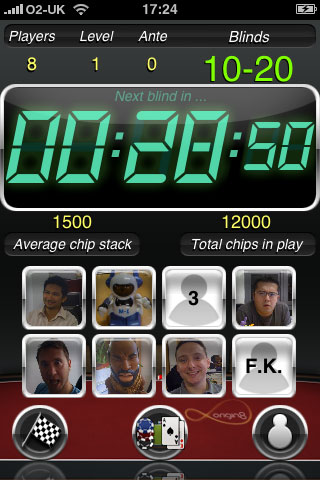 Features:
This poker app offers some unique features that are fully customizable including the tournament structure, the game prizes, the players, and even the blinds
The clock display is easy to see and you can set the timer for different periods of time to help match everyone's skill level
The background play has been fixed in this version so that there aren't extended periods where you are waiting
You can get online and post tournament scores and prizes so that anybody that has the internet can check on how everybody is doing
You can have the tournament go on in the back even if it your phone is inactive at times
You can get a sheet of statistics and email it to all of the participating players after the games so they can see how they did
Play over an LAN network or another type of device so you can host multiplayer games
Have your players set up profiles that you can manage and customize for the tournaments
If you have to leave the game unexpectedly, your progress will be saved for when you return
Conclusion:
Overall, this is a good offline version of a poker tournament game.
Voted 3 stars by iPhone poker app users and currently can be downloaded for $4.99.