Showzee – Storytelling App Review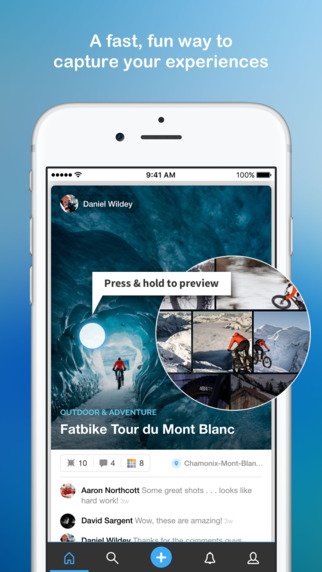 Everyone loves a memorable story and nothing makes your stories quite as memorable as Showzee, a fun new app that lets you get creative with videos, photos, and text. Life is all about sharing personal experiences with a wider audience and users have fallen in love with the way Showzee gives you the freedom to get creative with your experiences.
Features and highlights
– Create: Pick an interest and build picture and video stories out of those interests. No matter what your interest, Showzee gives you the ability to takes those interests and transform them into engaging stories to share with friends.
– Share: Creation is no fun if you keep it to yourself. Your photos are the backbone of your life's story and Showzee plays to this fact by letting you take your photos and videos and combining them with other components of those interests. Once you've got the creation, you share it with your friends who will also share their own Showzee creations. It's all about showing off what you love to do most.
– Profiles: Profiles are the heart of any network that encourages sharing. Showzee does it best and with the best of them. People will be able to explore profiles that have topics which interest them. You can search profiles by name or by interest. A good many people have discovered that Showzee isn't just about sharing with friends but about making new ones through shared passions.
Life is all about the journey you're taking with your fellow friends and family. There are new friends out there just waiting to explore what you have to offer in the ways of interests, videos, and photos centered around your own life. The personal side of Showzee is one great avenue you can explore but more than that it's about making new friends and exploring new interests. Current users have already discovered everything that Showzee has to offer and new features are constantly updated and integrated into existing popular media platforms so that you can connect with your friends all around the globe. It's available in the iTunes stores and remains one of the most unique takes on sharing photos and videos out there today so that what you're sharing isn't just a single experience or picture but a unique journey of experiences that tell an overall comprehensive story of your life and the things you're passionate about.